Best Canister Vacuums for (April) 2017
Best Canister Vacuums for (April) 2017
There are several reasons to choose a canister vacuum over an upright option. They are significantly more powerful as a result of being able to contain a larger engine, which means you can vacuum your house in record time. Their versatility is perhaps their greatest feature, however, because they can be maneuvered in countless ways and fit where upright vacuums just won't. With what seems like an unlimited number of vacuums to choose from, it can be difficult choosing the best option for your personal needs. To make the decision easier, I have provided a review of the best canister vacuums for 2017 below.  You won't go wrong with any of these canister vac's
The New Miele Compact C2 Topaz Canister Vacuum Cleaner is a powerful yet compact product. The vacuum only weighs 14.3 lbs., so it's easy to carry and maneuver. It features a rotary dial on the front of the canister which controls the vacuum's six different settings. The dial has easy-to-navigate images, allowing you to choose exactly what surface you will be cleaning so that you'll be using the ideal amount of power for the job. Despite its incredibly powerful motor, this vacuum is extremely quiet and shouldn't cause a disturbance to your family and neighbors.
The head of the New Miele Compact C2 is electrically-powered, so you don't have to put your strength into pushing it around. This feature also allows for speedy clean-up jobs that busy individuals will love. The neck swivels and can fit easily into corners and under sofas, so no spot is ever missed. This vacuum features a 33-foot cleaning radius which prevents you from having to constantly switch outlets as you move through an area of your home.
Pros:
Electric head allows for fast clean-up
Lightweight and compact
Long cord and neck
Captures and seals 99.9% of harmful air pollutants
Durable
Extremely quiet operation
Cons:
Hard to keep canister upright on carpets
Price: $749.00


---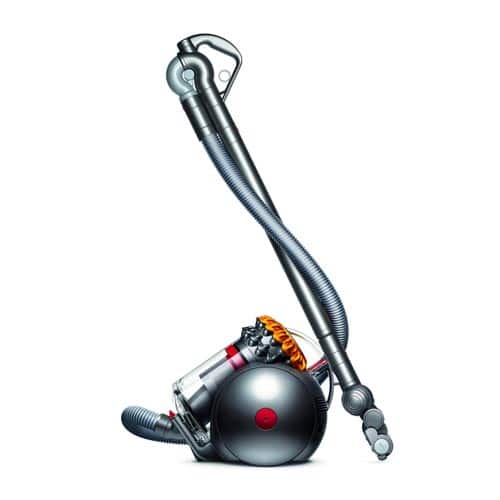 The Dyson Big Ball Canister Vacuum Cleaner is innovative and powerful. The vacuum weighs 17.6 lbs, and the unique ball design can stand itself up whenever it topples over. This makes it incredibly easy to maneuver because it can be dragged around the room without weighing you down or needing you to pick it up repeatedly. The motor is exceptionally quiet for such a powerful product, and it allows the vacuum to move smoothly as you clean.
The head of the Dyson Big Ball Canister Vacuum is great for picking up both fine and large particles. It features carbon fiber, which picks up extremely small dust particles, and stiff nylon bristles that can pick up dirt from deep within your carpets. Emptying this vacuum is incredibly simple with the product's Dirt Ejector. With the push of a button, dust and dirt are forced out of the canister without you ever having to touch it.
Pros:
Works on fin and large debris
Stands itself back up after toppling
Easy to empty
Quiet operation
Moves smoothly with little force
Compact canister
Cons:
Price: $499.00


---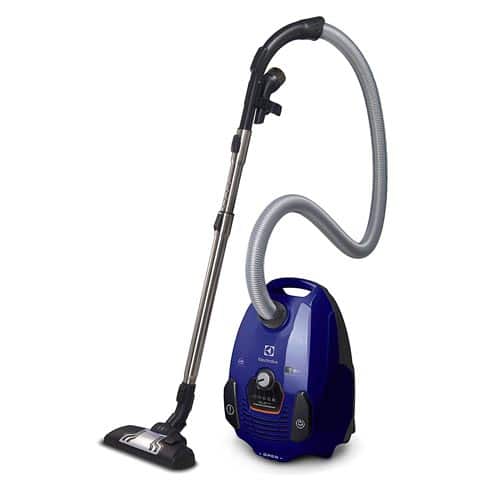 The Electrolux EL4012A Silent Performer Vacuum Cleaner is quiet, efficient, and great for anyone with allergies. It features a Silence Pro System with a quiet motor, canister, and even a noise softening nozzle. The rotary dial on the canister is easy-to-navigate and offers options for several different surfaces, so you can tackle any cleaning job. With a 360-degree range-of-motion, this vacuum can help you reach underneath furniture and hard-to-fit corners.
One of this vacuum's best features is its clean air filtration system. It has a high-quality HEPA filter in the canister that absorbs allergens as you vacuum and filters clean air back into the room. It's an ideal option for pet owners and people with severe dust allergies.
Pros:
Easy to use
Absorbs allergens out of air
360-degree maneuverability
Quiet operation
Lightweight
Long wand and cord
Cons:
Not great for taller carpets
Price: $262.00


---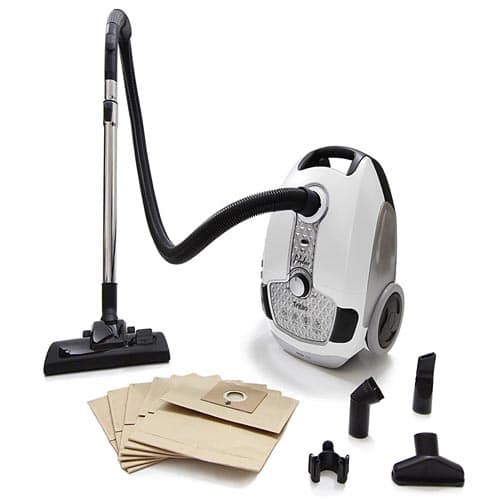 The Tritan Canister Vacuum HEPA Sealed Hard Floor Vacuum Cleaner was specifically designed with hard floors in mind, but it works effectively on just about any surface. It is easy to use and has great maneuverability thanks to its retractable 23-foot cord and a wand that extends 6 feet. The 12 AMP motor is extremely powerful, allowing you to clean up tough and even ground-in dirt from carpets.
This vacuum features a sealed HEPA filtration system that never throws lung-damaging particles back into the air as you clean. The canister bags seal in all dust particles and other allergens, so the air that is returned to your home is even cleaner than before.
Pros:
Easy to use
Absorbs allergens out of air
Long cord and extendable hose
Compact design
Great for hard surfaces
Cons:
Motor can run loudly after long-term use
Requires bag replacements
Price: $114.98


---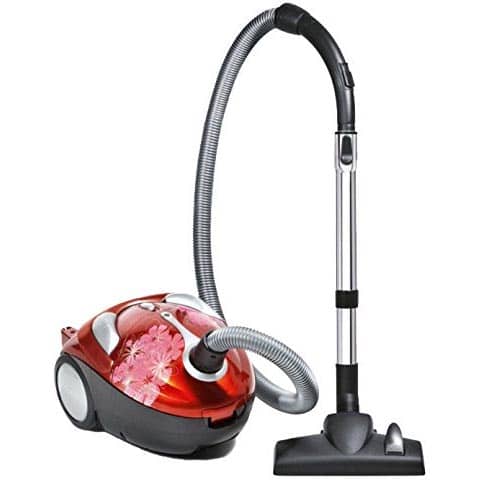 The Dirt Devil Tattoo Crimson Bouquet Bagged Canister Vacuum Cleaner is a great option for anyone who wants a high-quality product without the high-end price tag. With a 10 AMP motor, this budget-friendly vacuum is powerful and effective and completing tough cleaning jobs. The canister is lightweight and lays flat on its back during use, so it is extremely easy to move around the room with you.
With dimensions of 9 inches x 11 inches x 15 inches and a weight of only 15.5 lbs., this compact canister vacuum is great for small apartments, tight closets, and dorm rooms. The cord automatically retracts with the push of a button, and the extendable want collapses to just 11 inches for easy storage.
Pros:
Easy to use
Compact for tight storage spaces
Long cord and extendable hose
Lightweight
Budget-friendly
Cons:
Louder than other options
Not as durable or long-lasting
Price: $89.99