Cordless vacuums can be a life-saver when it comes to avoiding tangled or unplugged cords while you clean. They're best for cleaning apartments or smaller houses, and they're most effective on hardwood floors. There are lots of options on the market, but some are more worth the money than others. If you're thinking of making the switch to cord-free cleaning, keep in mind that cordless vacuums have varying amounts of battery life. With 15 minutes of battery power, you can clean about 1000 square feet at once, and this is about the median amount of battery power for cordless vacuums. Look for a cordless vacuum with a lithium or lithium-ion battery, which will take less time to recharge and will maintain its power throughout use. As a bonus, it's handy to have a vacuum that has extra attachments for different surfaces, or that can be converted into a handheld vacuum. With these factors in mind, here are five of the best cordless vacuums for 2017.
1. Makita Compact BCL180W 18-Volt Lithium-Ion Cordless Vacuum – B0039ITKLU – $251.33
You generally think of the Makita brand being popular for power tools, but they make extremely solid vacuum products as well. Even though this vacuum is on the pricier end of our list,  I absolutely love this model, and it's still in a reasonable price range for a main household vacuum. This one is a great option because, at 18 volts, it's strong enough to pick up a variety of larger debris, and works well on both hardwood and carpet. The lithium-ion battery charges quickly, and it comes with floor nozzle and crevice nozzle extensions.
This Makita cordless vacuum offers up to 10 minutes of continuous use from a single charge. It has great suction power and is easy to clean.. It's also lightweight, which is exactly what you want from a cordless vacuum. Pick it up and use it wherever you need it; its ergonomic handle is comfortable to use.
If you own other Makita products using this 18-Volt battery, then this vacuum is a no brainer.
One downside to this vacuum is that its shaft is on the shorter end, so it may be uncomfortable for some taller folks to use. You also have to keep your finger on the switch during use, but this may be more convenient for some users as it's easy to turn off and on as needed. Nonetheless, this energy-efficient cordless vacuum is a good value for the money.
Popular Question & Answers
If you're wondering if this vacuum is good for use on carpets, the answer is a resounding yes.  While it's designed specifically for hardwood floors and tile surfaces, it performs extremely well on carpeted surfaces as well.   Many people want to know if this vaccum will use the same size 18V battery as the other Makita tools, like the cordless drills.  This vacuum can use the standard 18V battery pack.  This is also an excellent choice if you have stairs that need regular vacuuming.  You can attach the edger tool and get in the corners of stairs extremely easily.

---
2. Eufy HomeVac Lightweight Cordless Vacuum Cleaner – B01MG139T5 – $129.99
At $129.99, this Eufy cordless vacuum offers a whopping 50 minutes of continuous use on a single charge, which is the longest battery life among the vacuums on this list. This long battery life makes it ideal for those with somewhat larger homes, who will finally be able to clean their homes with a cordless vacuum in one pass.
Additionally, this vacuum has a 28.8V battery, which gives it adequate suction. It can pick up a variety of messes off of hardwood, tile or carpet in one pass. It's lightweight enough to easily carry around. It works quietly, and the dust holder detaches easily for cleaning.
In addition to a long battery life and sturdy design, this cordless vacuum offers a LED light that helps illuminate debris in your path while you clean.
This vacuum doesn't come with any hose attachments, which may be a downside if you're looking to use your vacuum in different environments like in your car or on furniture. The inside of this vacuum can also get clogged somewhat easily, and may have to be cleaned regularly. At this price, it's an overall worthwhile investment and comes with a 15 month warranty.

---
3. Hoover Linx Cordless Stick Vacuum Cleaner – BH50010 – $119.99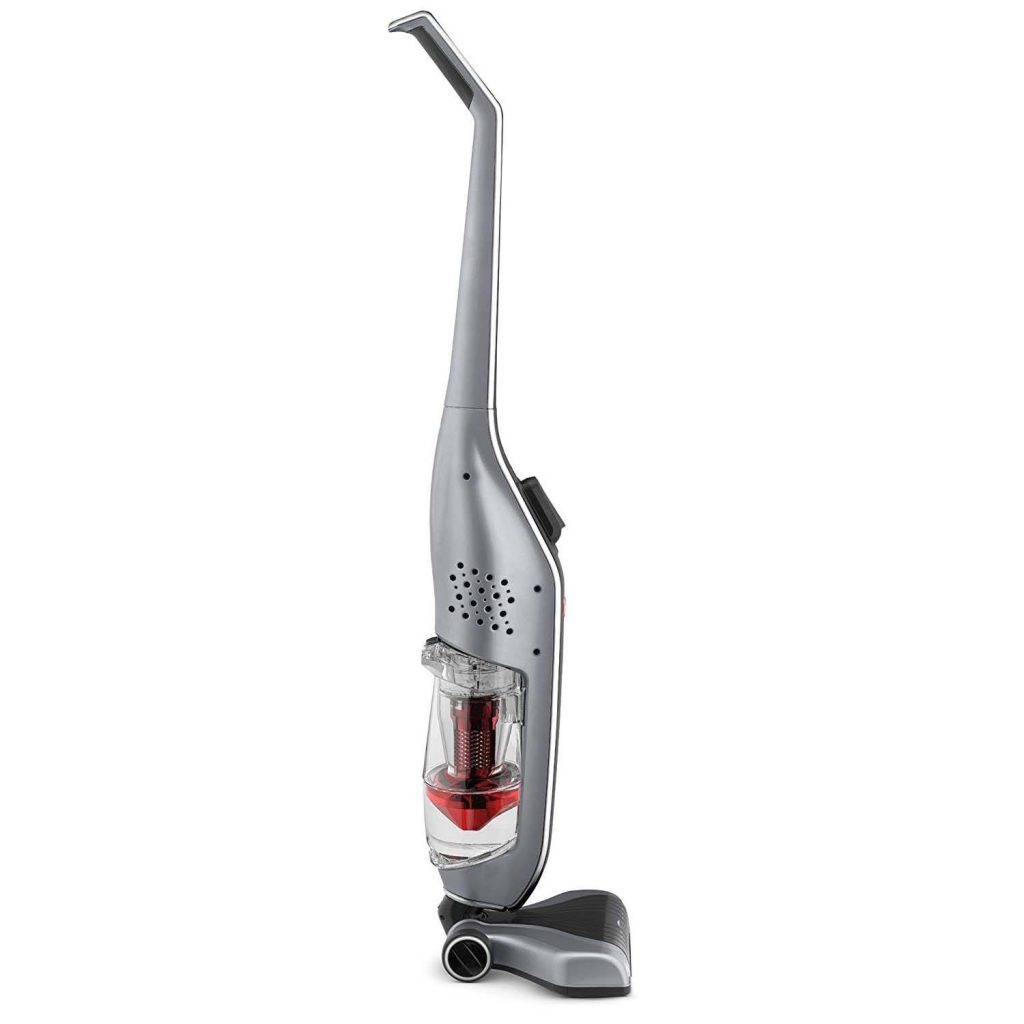 The Hoover Linx is one of the most popular cordless vacuums on this list. It's reliable and affordable, and will suffice as a main household cleaner for those who have mostly bare hardwood floors. With an 18V lithium-ion battery, it offers about 16 minutes of continuous use on one charge.
This vacuum is not quite strong enough to pick up fine dust in carpets, and doesn't offer a hose or hand-vac component. It works great at what it's meant for, which is cleaning floors; it's great for picking up debris from hardwood floors and area rugs. Its low profile will easily fit under counter and furniture edges, and it's easy to steer and handle, though it does not swivel a lot. It's easy and quick to unclog.
The Linx also offers a fuel gauge light, so that you know how much battery life you have left before it needs to go back to the charger. Overall, this model would be great for everyday cleaning.

---
4. Anker HomeVac Duo 2-in-1 Cordless Vacuum Cleaner – B01AHRR7ME – $89.99
As the lowest-priced option on this list, the Anker HomeVac is impressively competent for its price point. Firstly, it has the versatility to be used as either an upright or a handheld unit. That means you can use it on more surfaces, like windowsills, countertops, furniture, cars, and more. It also comes with a brush tool and a crevice tool, and the shaft handle folds in half for storage. It has a 2000mAh lithium-ion battery, which delivers about 25 minutes of constant use.
While the suction on the Anker is not as strong as some other models, it offers good cleaning performance on bare floors and acceptable performance on short carpets. It's lightweight and easy to handle, and doesn't require much maintenance. This is a top pick for lightweight cleaning.

---
5. Dyson V6 Cord Free Vacuum – B00SMLJPIC – $229
Trust me, I know that when people see the Dyson name, they get sticker shock because while Dyson makes an great product, the price point is above what most people can afford.  Enter the Dyson V6 Cord Free Vacuum.  This affordable model offers up to 20 minutes of continuous use, and works well on all floor types, including carpet. Its slightly higher price point reflects its more powerful suction, which compares to a traditional vacuum — that's a hard feat for a cordless machine.
Weighing in at about 5lbs, this vacuum is lightweight and comfortable to use. It features a handheld mode, so you can use it for your car or other household surfaces. The battery takes around four hours to recharge, which is typical for vacuums with this run time.
The V6 is easy to clean, sturdy, and maneuverable. The only downside for this model is that it doesn't come with nozzle attachments, but you can buy those add-ons at an extra price. Also, like some other cordless vacuums, this model's power button must be held continuously while it's in use; this can be annoying for some users, but is also useful for conserving battery life. In short, if you're looking to splurge on a model that's strong enough to be used all over the home, the V6 is the choice, but any of the other brands/models are going to be great choices that won't break the bank.