The Dyson DC59 Animal
Do not underestimate the capabilities of the Dyson DC59 Animal cordless vacuum cleaner. It guarantees efficient suction power that can remove dirt three times better than other cordless models. And with the Dyson digital motor V6, you will be able to clean and clear any kind of floor.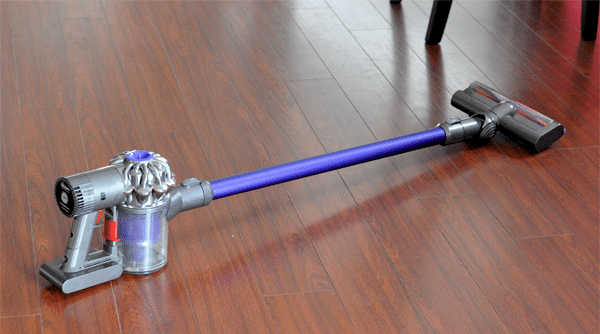 Features of the Dyson DC59 Animal
Measures 29.2 x 10.7 x 6.1 inches and weighs 4.6 pounds
Uses a 350W digital motor V6 and with 15 cyclones on two tiers for more suction power
Uses V-Ball technology
Uses a run-time enhancing trigger
A full battery will provide 26 minutes of cleaning time.
Uses a re-engineered nickel manganese cobalt battery with a charging time of 3.5 hours
With a slim design
With a carbon fiber cleaner head
With an efficient brush bar that uses a self-tightening mechanism to stabilize the bar
With a dust capture channel built near the brush bar
With an extended neck
Comes with a mini motorised tool, a combination tool and a detachable wand and tools
With an ergonomic handle
With a transparent bin and a one touch release button to remove the bin
With its own docking station that also holds the vacuum's extra tools
Comes with a 2-yead parts and labor warranty
Advantages and disadvantages of using the Dyson DC59 Animal
Pros:
The Dyson DC59 Animal is one of the lightest vacuums anywhere and even when it is light it is perfect for any housework because of its amazing features. You can use this vacuum for light cleaning and never worry about recharging the battery since it has a run-time enhancing trigger to only power on the vacuum when you are using it and thus saves power in the long run.
This is a great way to clean without a power cord. The motor works harder compared to other cordless vacuum types and has one of the longest battery times. And along with the extra tools that you have you can even improve the way you clean.
This vacuum has state of the art looks and functions which makes it a perfect cleaning tool for a modern family. The design looks efficient and since it is made by Dyson you can guarantee amazing features, a durable and hardworking motor and a design that will meet anyone's needs. The lightweight and efficient design also helps reduce the discomfort of using the vacuum for a long period of time. You can clean for minutes without discomfort along your back, your shoulders and on the upper extremities
Cons:
There are hardly any disadvantages of using the Animal and even if it belongs to an expensive line of vacuum cleaners, nothing beats the features and quality cleaning it provides.
Recommendations
Dyson DC59 Animal is recommended for anyone looking for an efficient and feature-packed cordless vacuum cleaner. It is also for homeowners that need an extra help cleaning the house; do not overlook the size and the sleek design of this vacuum for it has one of the best suction capabilities and features.