We have taken the top 10 best selling upright vacuum cleaners on Amazon and compared them side by side to see exactly which one is king of the floor cleaners. You can click the image below to see for yourself which is the best in our upright vacuum comparison table.
Efficiently clean all types of carpet
Have a feature to clean hard floor surfaces
Have accessories to clean hard to reach areas
Be easy to maneuver and not too heavy
Provide an easy method to remove the stored dirt & dust
Offer excellent filtration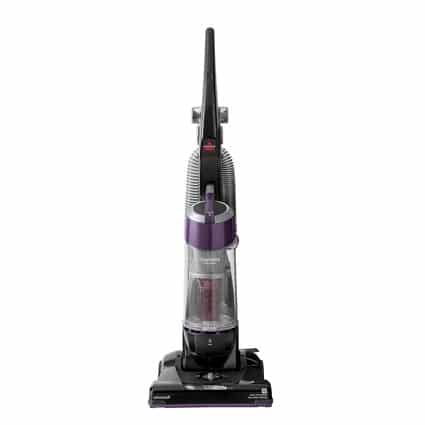 Why Choose An Upright Vacuum?
Upright vacuum cleaners are by far the most popular type of vacuum in the United States. The best upright vacuums are excellent at deep-cleaning carpets and provide adequate suction power to remove dirt, dust and small debris from your floor.
In most cases, upright vacuum cleaners contain a fast revolving brush that comes into contact with the carpet and combined with the vacuum suction power, dust dirt and debris are lifted and swept up into the vacuum. Depending on the quality of the model you may find that the vacuum has one motor to run both the revolving brush and suction or in more expensive models, two motors each operating the individual parts.
Our "Best Upright Vaccum" List
Uprights were originally designed only for carpets and due to the motorized rotating brush were not very effective on hard floor surfaces. This was because the dirt and debris would be scattered across the floor as it came into contact with the brush spinning at a high speed.  In recent years and with advances in technology, some models now offer "multi-floor" features making them suitable for both carpets and hard surfaces like wood and tiles.
There are some things to consider if purchasing an upright. The design makes them quite uncomfortable to use on stairs or to carry to another level of your home if required. Some models weigh in excess of 20lbs which can also make vacuuming quite a tiring and physical task. Look out for extra features like an extendable cleaning wand to improve access and to enable you to vacuum curtains and furniture.
So why should you buy an upright vacuum cleaner? In comparison to other types, uprights are often the most economical choice. The price does vary depending on the number benefits and features that the vacuum cleaner has to offer and if you decide you would like to purchase an upright vacuum, be sure to view our comparison chart to select one that fulfills your requirements. Another point in the favour of the upright is that they do offer a superior clean to carpets and the top rated uprights are among the best vacuum cleaners you can buy.
You also have the option of choosing an upright that uses a bag to store everything that is collected, or a dirt chamber which is a transparent container allowing you to see everything that is inside and how close to being full it is also. The original and still one of the most popular vacuums to use this technology was the company Dyson. We recognize that Dyson vacuums are one of the most expensive available, however truly believe that the quality of the product is superior and worth the extra. You can read Dyson reviews here and also see how they match up in our comparison table against other upright vacuum cleaners.
To learn about the other types of vacuum cleaners available or to read reviews of the best models, click one of the links below.