Best Vacuum for Laminate Floors 2019
Many homes are now using a variety of composite wood flooring materials because they are more economical and need less maintenance. Here, we find the best vacuum for laminate floors that will keep your home surfaces clean, great looking and looking like that for a long time.
Very much like what you would use to vacuum hardwood floors, you'll want to get vacuum cleaners that work well for bare surfaces. This means you don't want it to have a beater bar or hard brushes that can scrape or damage the protective surface.
While some upright vacuums do well for laminate floors, we prefer canister or stick type models. We put together this list of the best vacuums for laminate wood flooring to help you determine which vacuum is right for your home. These are our top recommended laminate floor vacuums that will perform extremely well and not break the bank.
Laminate Floor Vacuum Product Comparison
---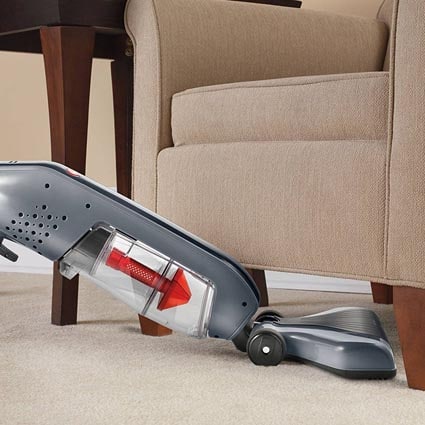 This is the best laminate floor cleaner when it comes to cleaning your floor completely and thoroughly. The benefits of the vacuum cleaner is that it is lightweight, but powerful.
It is very stylish, not very tall in stature, but will clean surfaces with ease. It has a swivel floor nozzle that helps you get under furniture and in tight spaces really well.
It is also bagless which makes it easy to empty debris into the trash. This is a top rated cleaning apparatus for synthetic floors because it cleans up a great deal of dirt and debris without causing any harm to the surfaces.
Features:
Long 20 foot cord
Easy to store away
Bagless
Powered nozzle
Motor is 7.2 amps
Pros:
Easy to carry around because it weighs less than 10 lbs.
Offers ability to switch brushroll on and off. Thus can be used for carpets and hard surfaces
Low clearance head allows it to get under furniture and cabinets
Easy storage due to its size and shape
Cons: 
Suction isn't as strong as other stick vacuums
No retractable cord which makes it more time consuming
Aren't ideal for cleaning large homes or apartments

---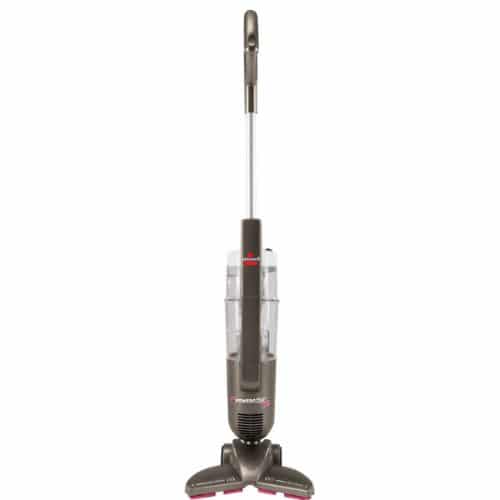 It comes with a specially designed head that guides the particles into the part where the suction is most powerful so as not to leave or push dust and the smaller bit around. It also comes with rubber attachments that will act like a magnet to vacuum up even pet hair with ease.
This is a good tools if you have a combination of pets and hard floor areas at home.
Main Features:
Surface Type: Hard Floors
Cleaning System: Cyclonic
Power Rating: 5 Amps
Weight: 7.5 lbs
Power Source: Corded
Power Cord Length: 20 ft.Bag
Type: Bagless
Pros:
Lightweight and easy to maneuver
Allows you to easily clean around furniture legs with its swivel head
The V shape foot captures larger debris into the center of the suction path, while the smaller debris is captured by the ends of the V head
Designed with pet hair attracting rubber material placed underneath the device to catch more animal fur
There is no hardwood broom or attachment needed
Easily cleans low pile rugs
The dirt cup makes it easy empty the dirt, so clean up is a breeze
Cons:
No attachments and tools included which makes it difficult to tackle areas like ceilings or drapes
Difficult to use on stairs. While easy to carry, you'll need to lift it up each step

---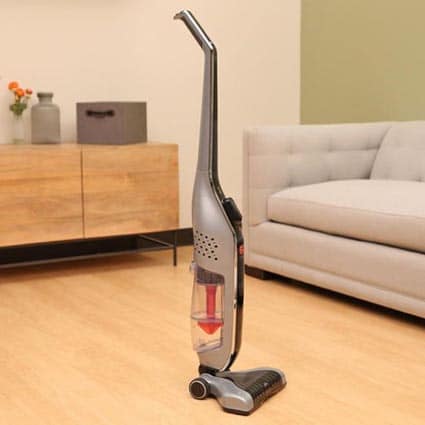 This is one of the more premium stick models available. And while its is priced higher than most similar items, it continues to rank among the best sellers because of its performance.
With good suction power it works well in hard flooring like tiles, laminate, linoleum and wood. It does a great job in picking up small debris like coffee grinds or sugar that may have been scattered on the floor.
For bigger particles, you may need to lift the head up a bit because the clearance may not let those things get by even if the suction is strong enough to pull them in.
Also included are some bells and whistles. It runs on battery so you won't need to deal with the electric cord before, during or after vacuuming. There are also a number of indicators that will warn you about low battery and when the filters need cleaning.
For the hard floor owner, the switch to turn the brushroll on or off also adds to the versatility as well as convenience while doing housework.
Features:
Cordless vacuum with rechargeable 18 volt Lithium Ion battery
Has a switch to turn brushroll on and off making it ideal for homes with different flooring types
Removable dirt bin with bottom release to drop dirt to trash
Washable filter
Pros:
Very good suction power, works well with small and large debris
Does a good job on bare floors and carpeting
Lightweight at less than 8 lbs.
It is a bagless vacuum cleaner with easy to clean dirt cup
No extra costs for replacing dirt bags.Very good at cleaning edges, often picking up dirt and particles on the first pass
Cons:
Cordless run time lasts a little over 15 minutes
More expensive compared to other Stick Vacuums
Not enough swivel in the head making it less mobile relative to similar models
Harder to use on stairs
It does not come with attachments or a hose 

---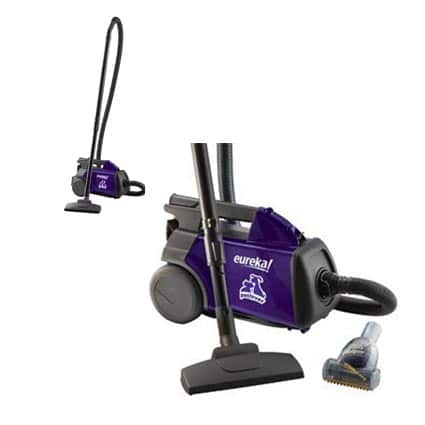 It has a number of features added to it including the small but useful Pet Power Paw tool that makes removing stubborn fur and dander even from tight areas, upholstery or carpeting.
Pets often leave a odor, and the HEPA filtration helps improve air quality by taking out just about all the unwanted dirt molecules that can cause allergies or make other sensitivities flare up.
Features:
12 Amp power motor
Pet Power Paw attachment for cleaning fur and hair from stairs and fabric
HEPA filtration system to remove 99% of allergens and pollutants
20 ft. power cord
Blower port
Pros:
Weighs 8.6 pounds, and comes with easy to carry handle
Small footprint at 17 by 9 by 11 inches in dimension
Dual functionality with vacuum on one side and blower on the other
Works on hardwood floors, carpets, upholstery and furniture
Comes with features to remove odors that come with having pets in the home
Cons:
Parts are made of plastic
Suction settings aren't adjusted by the usual switch but by rotating a ring near where you hold the handle.
You can accidentally change settings unintentionally

---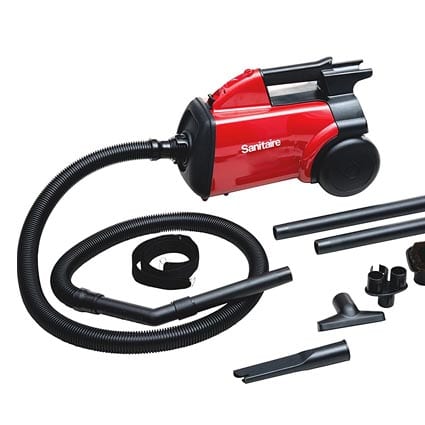 If you have a bigger house or want a stronger machine to tackle the housekeeping workload. This commercial grade device is used by companies that offer cleaning services.Electrolux Sanitaire Commercial Grade with 7 ft. Hose and 20 foot Cord
Canister vacuums are often ideal for more sensitive areas, like wood surfaces and fabrics, because they offer a number of different tools that are made to get the dirt out without using any harsh means to do so.
Thus, avoiding any possibility of damaging the furniture or flooring. You can also choose to use the suction only route if needed.
Features:
20 foot power cord
Multiple attachments including dusting brush, crevice tool, and carpet cleaner for area rugs and low pile carpets
Wide 10 inch path
Small compact design
Pros:
Strong suction, works well enough for commercial use including janitorial or cleaning services
Works with hard flooring and bare surfaces like wood, linoleum and tiles
Long telescopic wand with adjustable length offers versatility
Easy to move between rooms at less than 10 lbs.
Shoulder strap so you for more convenient carrying
Accepts HEPA filters if you want to be able to get better air quality
Sealed filtration system so dirt that's been collected doesn't leak back out
Cons:
No automatic cord rewind feature
It is a bagged vacuum, which means ongoing costs as you'll need to replace the bag often
Floor tool could use improvements like small wheels that turn to make it easy to maneuver
Canister can get hot after prolonged use