Dirt Devil FeatherLite Canister Vacuum Review
Dirt Devil is a company that was founded in 1905 and has been creating floor care products for a while now. Their line of products range from a variety of vacuum cleaners from upright to handheld, and they also have some steam cleaners.
For most homeowners, their products are work well for apartments and homes with small to average square footage. Most of their products come in the color red which has become their trademark. Though every now and then they'll switch it up in some of their items.
Another common feature found in their items is the overall affordability in cost, making them a good value option for the budget conscious.
Works Well with Bare and Hard Floor Surfaces
This particular model, the Dirt Devil FeatherLite Canister Vacuum is light in weight and made to be compact. It is made to be used on both hard floors as well as carpets.
Weighing less than 10 pounds, and equipped with large round wheels makes this machine suitable for the more scratch susceptible hardwood floors. Tugging it around with you as you cover the different areas of your home won't harm your bare flooring, whether they are made of wood or laminate wood materials.
It comes with a specially designed bare floor nozzle that has a retractable brush. You want to have that brush on there when vacuuming carpets because that's the only way it'll be able to push aside the fabric in order to jar the particles loose.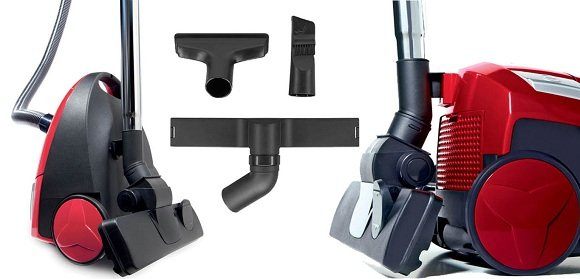 However, these bristles become an enemy to hard floors like wood and other wooden composite materials because of their ability to scrape and damage their finish. Which is why the retractable feature is important.

The bare floor nozzle with retractable brush lets you vacuum tiles and hardwood floors without damaging them
For the tough corners, using the crevice tool or even just the hose without any attachment often works best in plucking out the dirt that was pushed there.
Most of the controls are convenient located right at your fingertips on the upper part of the extension wand or at the nozzle area in the form of foot pedals.
With a 10 AMP motor and a 7.5 foot wand length, it is able to handle not just the floor care needs but also those that require long reach like ceilings and top of cabinet shelves. The handle is adjustable so you can set it to the best height for each job.
Some of the tools that come with this vacuum is the dusting brush and the crevice tool. This is a two in one combination piece which allows you to not only dust your house and high reach places like fans, but also aids in cleaning tight corners and spaces that normally don't get cleaned often.
One of the more versatile attachments included is its upholstery cleaning tool. It gives the right tools to attach to the vacuum to clean couches, chairs, beds or anything of the sort. It also has a cyclonic filtration system. This means that it will filter the dirt more efficiently and properly.
Good Vacuum for your Money
As a whole, this canister vacuum offers excellent value. Though it does have some drawbacks. Because of the compact size, the motor can only be so big. Because of this, the vacuum can only be so powerful. While this works well in pretty much most areas of the home, it can be liability if you have thick carpeting, which requires strong suction power to get through the long strands of fabric.
Another issue it has is dealing with pet hair. While the FeatherLite is able to collect thick rounds of dog or cat hair, it isn't always able to do it in the first pass. You'll need one or a couple more passes to ensure that all the fur is lifted off the ground. So for people who care for animals, be it dogs or cats it may not be the ideal choice, though it can get the job done.
All in all, the Dirt Devil FeatherLite Cyclonic Canister is a very nice and efficient vacuum that will save time, and money for any family.