Electrolux EL5020A Intensity Upright Vacuum Cleaner Review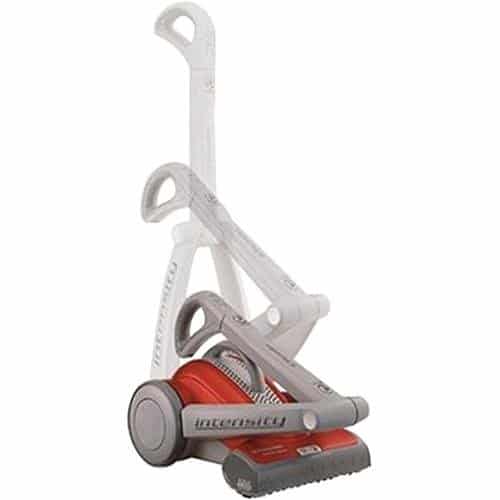 The Electrolux EL5020A Intensity Upright Vacuum Cleaner is appropriately named "Intensity" because this upright vacuum cleaner is capable of picking up dirt, dust, and debris without the need to vacuum the same spot over and over again.
Product Features
Upright vacuum cleaner with 12 amp motor and 3-inch air path for maximum suction
Fingertip controls
carpet and bare-floor modes
12-inch-wide cleaning path
Helpful indicator lights
adjustable-height telescopic handle for comfortable use
HEPA filtration
bi-fold handle
retractable 21-foot cord
Measures 17 x 12 x 14 inches when folded down
2-year warranty
With its 12 amp motor and direct air path, it maximizes suction power. The process goes like this: Dirt travels up to at least 3 inches to the bag instead of through long tubes and hoses – a reason why some vacuum cleaners slows down performance. The unit has fingertip controls allow for selecting "on/of", "carpet" or "bare floors". In carpet mode, the cleaning head automatically adjusts to different carpet heights and uses its spinning brush roll for a deep-down clean. The bare-floor mode stops the brush roll to protect bare-floor surfaces.

Aside from this, the unit also has a 12-inch wide cleaning path featuring edge-cleaning brushes that doubles the results and a convenient performance indicator lights that signify maximum suction and when the dust bag or filter needs to be changed.
This unit has other features to boast such as adjustable height telescopic handle for comfortable use, a soft-touch grip, a handle for easy maneuvering around furniture, non-marring soft wheels, HEPA filtration, and a 1-quart dust capacity for minimal bag changes, a bi-fold handle, and a retractable 21-foot cord for compact storage that takes up less space in a closet than a laundry basket.
The Electrolux EL5020A Intensity offers maximum suction in a compact design and not only that it also has a sealed HEPA filtration – what a reliable vacuum cleaner should have especially to households with asthmatic members. HEPA filtration ensures that no dirt flows back to the clean area as you clean, this way, you are ensured that air you breathe is 150 times cleaner than the normal household air.
Unlike other vacuum cleaner models which are bulky and hard to store, this unit has a compact design with a folding handle so it is very easy to carry and install. With its compact design and for its being lightweight, the unit gives the user utmost cleaning convenience. Its handles are also maneuverable for easy cleaning around corners, furniture, stairs and other hard to reach areas. This vacuum cleaner is perfect for deep down routine cleaning. It also has fingertip controls and cord rewind so bending is reduced as you clean.
Advantages
The problem with most vacuum cleaner models is that collected dust, dirt and debris travel from the suction all the way to long tubes and hoses before reaching the dust bag or bin. This process slows down the performance in time since choking is not unavoidable. The Electrolux EL5020A Intensity picks up dirt but it just travels through a 3-inch air part until it reaches the dust bag.
Disadvantages
The unit uses very small bag which needs to be frequently changed when user is cleaning the entire house.
Consumer Reviews
The good points
– Compact storage
– No Clutter
– Retractable power cord
– Strong suction
– Lightweight
The bad points
– Dirt bags are small
– HEPA filters are hard to find
Summary
The Electrolux EL5020A Intensity is the most powerful compact vacuum cleaner around. Do not be deceived by its compact design, it has the same power, perhaps works even better than your regular vacuum cleaner.