Hoover Linx Cordless Stick Vacuum Cleaner BH50010 Review
If you are looking for a cordless, stick hardwood floor vacuum with a straightforward design, then the Hoover Linx Cordless Stick Vacuum Cleaner BH50010 is a model I highly recommend. Sure, the Hoover Linx may not have a trendy, cool looking design like some higher end Dyson vacuums and it does not come with many brush attachments, but what you will get is outstanding performance at a very affordable price.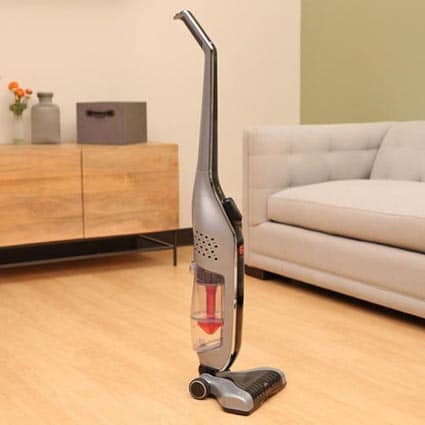 What I Like About The Hoover Linx Cordless Stick
Simple, Straightforward Design : The Hoover Linx may look like a stripped version of an upright vacuum, in terms of design. When compared to upright vacuums, the Hoover Linx weighs merely 7.3 pounds, which means that it is relatively lighter. Even for a stick vacuum, it is not too heavy. As far as features are concerned, the Linx is certainly very simple. A lithium-ion battery powers this vacuum cleaner that can be charged using the separate charger that comes with it Apart from turning off this vacuum, it can also be switched between two different cleaning modes, namely the suction only mode for hardwood and the suction and brush roll mode for carpets.
Outstanding Usability : Apart from being more compact and lighter than conventional upright vacuums, you will not have to search for an outlet or trip over a cord since it is battery-powered. Unlike other stick vacuum models, you will not find it a chore using the Hoover Linx, the reason behind which is its simple design. The power switch can be easily reached since it present at the top of the handle. Whether the suction-only or suction-and-brush-roll is being currently used can be seen by taking a look at the light indicator. The front of this vacuum cleaner also has an LED status bar that indicates when the battery needs to be charged. Moreover, there are no accessories, so you will not need extra storage space and it can be conveniently stored in a closet. You will not need a dock to charge the entire vacuum since it comes with its own battery charger and the battery itself will last between 15 and 20 minutes after being fully charged for 3 hours.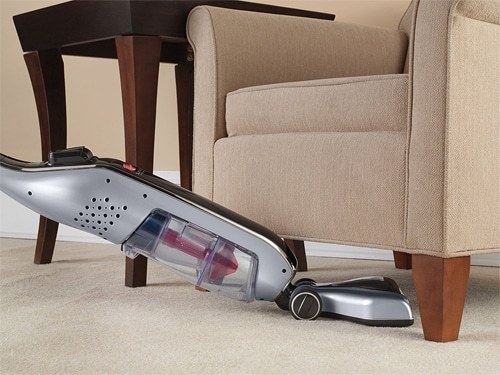 Impressive Performance : Many vacuum cleaners find it challenging to pick up spilled edibles like Cheerios & Goldfish. The Hoover Linx will pick them up completely from various flooring surfaces, including hardwood, low-pile carpets and mid-pile carpets. The Hoover Linx effectively collects such larger particles every time you use it Some vacuum cleaners also find it tough to handle pet hair, but the Hoover Linx will not because it will again pick up all pet hair from the same flooring surfaces mentioned above. As for smaller particles, the Hoover Linx may come up short but will still effectively pick up such particles in one or two passes.
Features & Specifications
As a stick hardwood floor vacuum cleaner, powerful performance will be delivered thanks to its cordless design.
The dust cup is bagless so it can be emptied easily without coming into contact with the dirt.
Air in your home will remain clean and dirt deep within your carpet will be effectively removed thanks to the Cyclonic filtration and WindTunnel technology.
A wide range of flooring can be covered with each pass since its clearing path measures 11 inches and its mouth is quite wide.
You can easily and quickly switch between cleaning carpets and hardwood floors with the flip of a switch.
Corners and walls can be easily accessed because of edge-cleaning bristles.
[cleveryoutube video="-8rGAZnSMNY" style="1″]

You will also be able to easily clean under furniture since this vacuum has an extreme recline handle and a low profile base.
On Amazon, the Hoover Linx Cordless Stick Vacuum Cleaner BH50010 has an overall rating of 4.4 out of 5 stars, which is based on 5,252 customer reviews. Out of those D5,252 customer reviews, 69% customers have given it a 5 star rating.
Full Customer reviews on Amazon
You may discover that the Hoover Linx is slightly less maneuverable because its floor nozzle may not pivot enough. Perhaps the only major drawback is that you may have to invest in a backup battery if you spend more than 20 minutes on vacuuming.
The Verdict
When it comes to appearance, the Hoover Linx Cordless Stick Vacuum Cleaner BH50010 may not look like much, but its design is quite intuitive, while its performance and usability are sure to impress you Moreover, price tag attached to this vacuum cleaner quite affordable and reasonable.  This is a simple, stick vacuum that gives you a ton of bang for your buck.