Hoover WindTunnel UH70210 Vacuum Review
The Hoover WindTunnel UH70210 vacuum is an upright, bagless model, that is made with pets in mind. This is one of the most popular models because it comes with a number of tools and features that make cleaning after pets easier.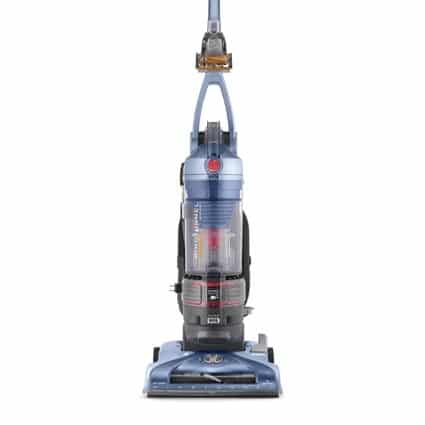 With a weight of only 17.8 pounds, dual cyclonic air system and 12 amp motor, it makes vacuuming easy and fast. The Hoover patented WindTunnel technology traps and channels dirt into the dirt cup and minimizes scatter. These two systems ensure you get good suction and keep the dirt and particles from coming right back out after they've been picked up.
When you finish vacuuming, putting the machine away is quick and easy. The UH70210 comes with a 27-foot, auto rewind cord that works with just a tap of the pedal and the handle folds down for easy storage. All the hand tools are fit squarely onto different cabins on the device itself.
A foot pedal lets you turn off the spinning brush without having to bend. This feature makes the device able to work on both carpeted areas as well as hardwood and bare floors.
This model is particularly good for dealing with pet hair. It comes with an easy to clean air-powered pet hand tool. This tool features washable rubber blades and full suction to ensure that even the most stubborn pet hair is removed.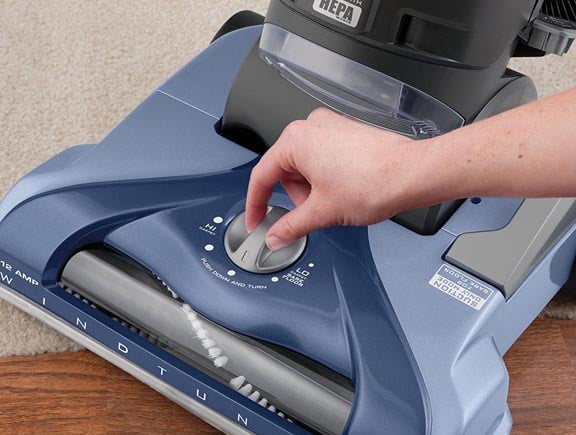 The Hoover WindTunnel UH70210 vacuum comes with three filters: a filter that can be rinsed and re-used, a high-quality HEPA filter, and a carbon filter that absorbs musty pet odors. In addition, the UH 70210 has a five-position height adjustment and controls that are right at your fingertips.
This model also features an eight-foot stretch hose, a 12-foot extension wand, as well as a number of onboard tools. These include a crevice tool, a dusting brush, and a powered hand tool, as well as the air-powered pet hand tool mentioned earlier.
The onboard tools, 8 foot hose and included attachments allow you to clean non-conventional areas like stairs, curtains and furniture
Taken together, these features allow you to move from carpets to bare floors to upholstery with ease and finally win the pet hair battle.
In order to keep this machine in tip top cleaning condition, you will need to do some maintenance. Hoover actually includes filter indicators where the sensor turns from green to red when the filter needs cleaning. The filter is reusable, so all it needs it rinsing through faucet water then dried off, saving you money over time.

The Hoover WindTunnel UH70210 vacuum has pros and cons, like any other product.
Pros:
The UH70210 has many advantages, including:an easy to empty cup, rather than messy bags that rip and spill,powerful, WindTunnel action that picks up even the smallest particles,easy to clean air-powered pet hand tool with rubber blades, to get rid of pet hair once and for all,a suction-only option, to clean hard floors without damaging them,five surface height settings and a variety of tools that make cleaning along baseboards and furniture, and in tight corners easy and convenient,a 27-foot, auto-rewind cord that lets you clean large areas from a single plug,a headlight that illuminates dark corners and under furniture for thorough cleaning,a handle that folds down for easy storage in smaller spaces,a carbon filter that eliminates musty pet odors and leaves your home smelling fresh,a system check indicator that lets you know when the filters need to be changed,a bumper to protect furniture and walls, and a two-year limited warranty.
Cons:
The UH70210 also has a number of drawbacks, including:insufficient reach with a stretch hose of only eight feet, which tends to try to retract,auto shutoff activates after 20 minutes of cleaning, and frustrating delays waiting for the auto shutoff to reset before you can restart the machine.