Leifheit PicoSpray Convenience Spray Mop
Very useful Mop
The mop has an integral container that stores the cleaning fluid; you just need to mix whatever you would normally use on your floor, insert it in the container and then spray away. I keep mixed solutions in the mop until they are used up, which can be quite some time as the spray is very fine, enough to do the job without being excessive. I have therefore found I use an awful lot less cleaning fluid that I ever did using a mop and bucket, with the added bonus that the cleaning fluid stays perfectly clean, until it hits the floor that is!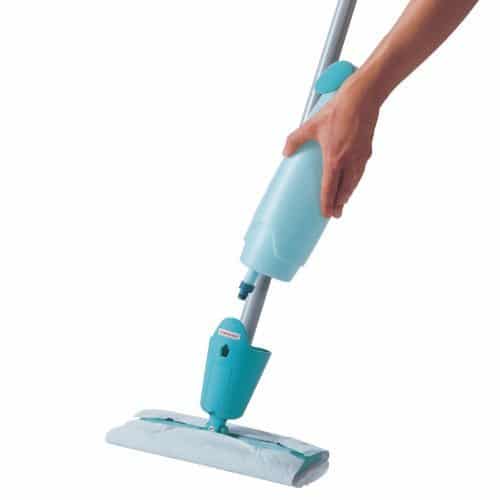 My mop came with a pack of disposable cloths intended to be used once; I did not get on with these at all. However, there was also a microfibre cloth and that proved very effective. All of the cloths attach to the mop via a press-in fastening system on the mop head and were held firmly in place until the cloth needed to be changed. Although the manufacturer makes replacement cloths that fit the mop head perfectly, I have found that Tesco…
Dream Product
I replaced this product having had one a few years ago and used it to death! My life wasn't the same until I could find another.It is prefect for cleaning my kitchen floor and any floor that can be gently mopped over. It's quick, effortless, gives an excellent result. It has a chamber where you put in your cleaning solution, squeeze the handle and it sprays. You can wash the cloth that fits over the underside of the mop. The spray is fine and doesn't saturate the floor, you mop it over and it quickly dries. I would not hesitate to recommend it.
The Best Way to Mop
I use this mop a lot,  and I consider it to be one of the best mops for hardwood floors that I've ever owned. I am also  a cleaner of 4 different properties, and I am using this mop in 3 of them, soon to be 4. It so takes the work out of lugging a mop bucket round and uses so much less cleaning fluid, a huge saving. I use the Cif multi floor cleaner and Cif wood floor cleaner and the comparison of using the mop and bucket to this, is unbelievable on the finish result, because it only gives a fine spray you get a lovely shine to laminate and wood flooring particularly. The head rotates easily for getting round the edges and down little gaps (side of the cooker or fridge) and great for use in the bathroom around the pedestals and toilets. The fact any fibre cloth will fit, and can be washed easily, you loose the mop getting grubby stage of mopping. Really cant say much more but no more mop buckets for me!A- Bodenwischer PICOSPRAY 26cm
Product Features
Mop for convenience / light cleaning on smaller to medium areas with smooth floors
Clean just the areas needing attention. Light spray makes it ideal on wooden floors too
Reservoir chamber holds water and cleaning solution ready for use, target spray where required
Supplied with wrap around micro fibre cloth for effective results.
Cloth simply removed for washing at up to 60°C