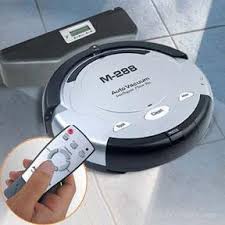 With the advancement of technology, there's no doubt that even cleaning tools are also innovative. Nowadays, doing cleaning chores isn't that tedious as before. It's because you can use the robotic vacuum cleaners that can save your valuable energy and time. By using such cleaning machine you can expect that cleaning tasks can be done conveniently and easily. The robotic vacuum cleaners are a great help for busy homeowners who don't have enough time to do the cleaning tasks.
These modern cleaning helpers are available on the market and you can have wide range of choices. Those are quiet high tech and come with sensors so that it would avoid banging on the wall. The memory of robotic vacuum cleaner can be programmed to finish the task and return to the charging station after completing the tasks. The timer is programmable that's why you can set this machine even you're away and you can expect coming home with spotless floors.
The compact size of robotic vacuum cleaner allows it to reach those places that upright vacuum cleaners can't access. However, this type of vacuum cleaner doesn't have powerful sucking ability just like the cylinder or upright vacuum. Here are three robotic vacuum cleaners that you can consider in case you're planning to buy a new one:
iRobot Roomba 620
Dusting and sweeping the floor isn't only tiring but also take most of your time that you can spend doing other important things or relaxing with your family. The iRobot Roomba 620 is the right option that can help in carrying out the cleaning chores. This vacuum cleaner is portable and super-efficient. By simply touching the button it will cover the entire area of the house. It's also equipped with AeroVac technology that maximizes the airflow so that all the debris, dirt, dust, pet hair and allergens are completely drawn inside the bin.
Due to its Dirt Detect Technology, the iRobot Roomba 620 is more intelligent because it can easily detect dirtier areas. It is also equipped with iAdapt responsive technology that is composed of more than 40 programmed behaviors. Likewise, the safety feature also prevents damaging the unit if ever it bumps with the walls or furniture.
Neato Robotics XV
The Neato Robotics XV is one of the products of Neato Robotics. Buying this vacuum cleaner includes boundary markers, blade brush, charging station and filter inside the package. The boundary markers are used in outlining the areas that would be cleaned. It also comes with 120-220 volts charging station that can fit on the wall. It also comes with NiMH rechargeable batteries.
This model of robotic vacuum cleaner has dirt bin that pops out if it's needed to be emptied. The filter is bigger as compared to the upright vacuum. You can use the filter for at least 2 months and it can be washable and reusable. The good thing about this robotic vacuum cleaner is that it's user-friendly, which means that you'll only need to push the button in turning it on.
iTouchless Robotic Intelligent Vacuum Cleaner PRO
This robotic vacuum cleaner is a smart cleaner and is fully automatic. It can go under furniture and beds. Unlike the upright vacuum, this type of vacuum cleaner can be used even without keen attention because it's equipped with safety features.  Using this robotic vacuum cleaner can save your effort and time. It's not only perfect for cleaning hardwood floors, but also for vacuuming carpet. It's very easy to use this vacuum cleaner and it automatically stops when the unit stops.
Considering those robotic vacuum cleaner cited above you can choose the model of vacuum cleaner that would work best in your house and can answer your cleaning needs.
Do you want to make your own floor cleaner? If so, check this site: Making Your Own Homemade Wood Floor Cleaner